Last month, as Israel battled Hamas, our pro-Israel students were forced to battle a surge of anti-Israel resolutions and statements on their campuses. Despite the growing anti-Israel sentiment among their peers, our students were able to win a series of victories.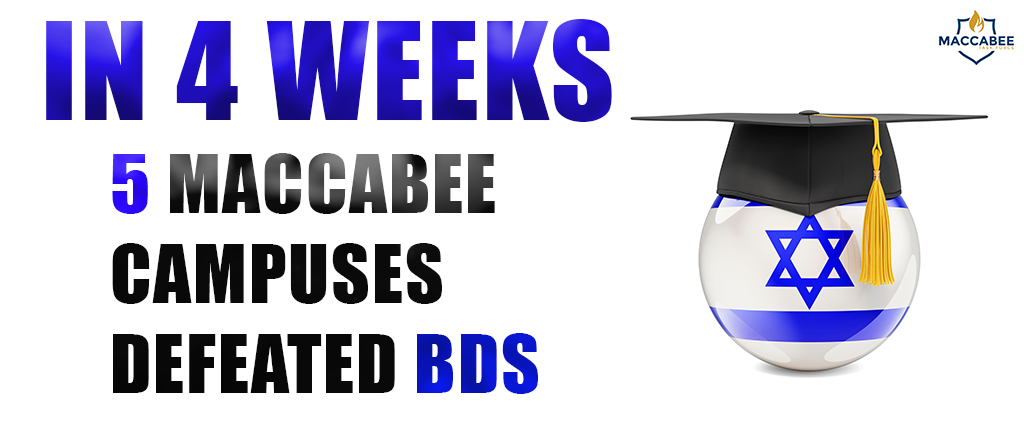 On one of our West Coast campuses, for example, our students led an effort to stop an online BDS referendum. Despite the constant harassment from anti-Israel students posting hateful slogans such as "Israel isn't a real State" and "F*** Israel," our students persevered and ultimately won.
On an MTF campus in the Southeast, pro-Israel students leveraged their strong relationships with student leaders forged on an MTF-sponsored Israel trip to prevent an anti-Israel statement from being released. The campus released a pro-peace message instead.
If our students had begun these efforts during the war with Hamas, there's no way they would have prevailed. But thanks to the Maccabee Task Force's long-term strategies and generous support, they've been laying the groundwork for these efforts all year.
Through MTF-funded Israel trips they've developed a network of allies in student government and beyond. Through our coalition building efforts they've forged close relationships with key student groups. Through our advocacy training they've acquired both the skills and the confidence to stand for Israel while so many others were afraid to do so.
In a battle like this, bringing speakers to campus or tabling just isn't enough. We need transformative strategies like these as well as the funds needed to pay for them. Only the Maccabee Task Force is supporting such strategies. And it's not cheap. We need your help if we're going to continue providing this level of support to our campuses.
The challenges facing pro-Israel students are only getting worse. Now is not the time to decrease the support we provide to them. With your help, we won't have to.
Donate Now – Defend Israel, Fight Antisemitism!