All of our Maccabees of the Month are impressive student advocates for Israel who stand out from the crowd. This month's Maccabee is a particularly unique selection in that she's our first international Maccabee of the Month. Meet Kayla from South Africa, a student at University of the Witwatersrand (Wits).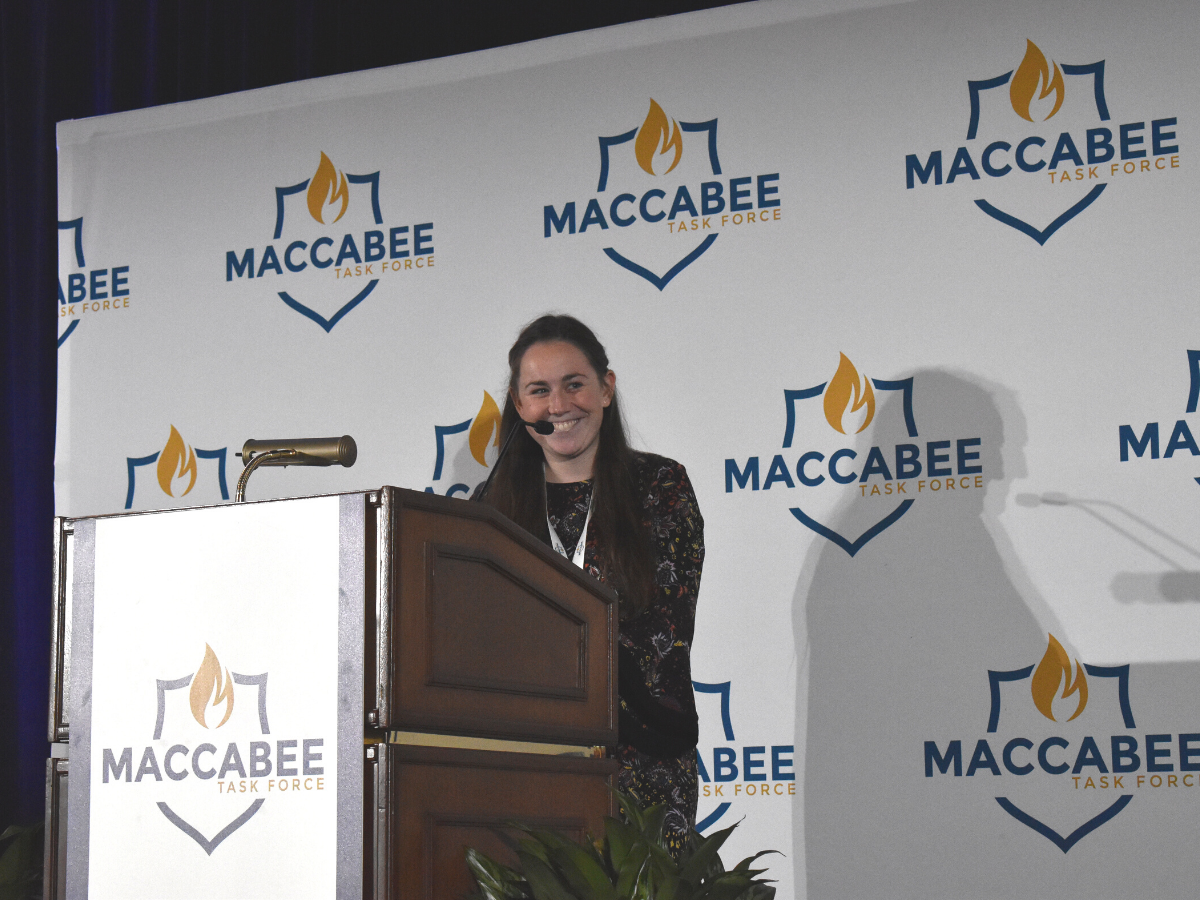 Kayla has been working to support Israel and the Jewish community throughout her time in college. She currently serves as the National Director of the South African Union of Jewish Students (SAUJS), the leading Jewish student group in the country. These students face a serious set of challenges. South Africa is the birthplace of the BDS Movement, and BDS supporters remain hard at work trying to convince young South Africans that Israel is an apartheid country much like South Africa once was.
In this challenging environment, Kayla is truly making a difference. Kayla played a pivotal role in preventing the University of Cape Town from boycotting Israel last year. This wasn't just another effort to pass a student resolution supporting BDS — this would have been an actual boycott by an actual university. It would have been a most dangerous precedent. Thanks to Kayla and her team, it did not come to pass.
Her achievements do not end there. This year Kayla was a critical voice in building a bridge between the Jewish students and student government at Wits. Through her leadership and the work of her team, student government chose not to endorse Israel Apartheid Week on their campus (for the first time in years) and instead are now actively listening to and connecting with the Jewish community.
Kayla is a Maccabee through and through. We hope her passion, commitment and successes are an encouraging example of how we as the Maccabee Task Force can continue to support students on college campuses across the world.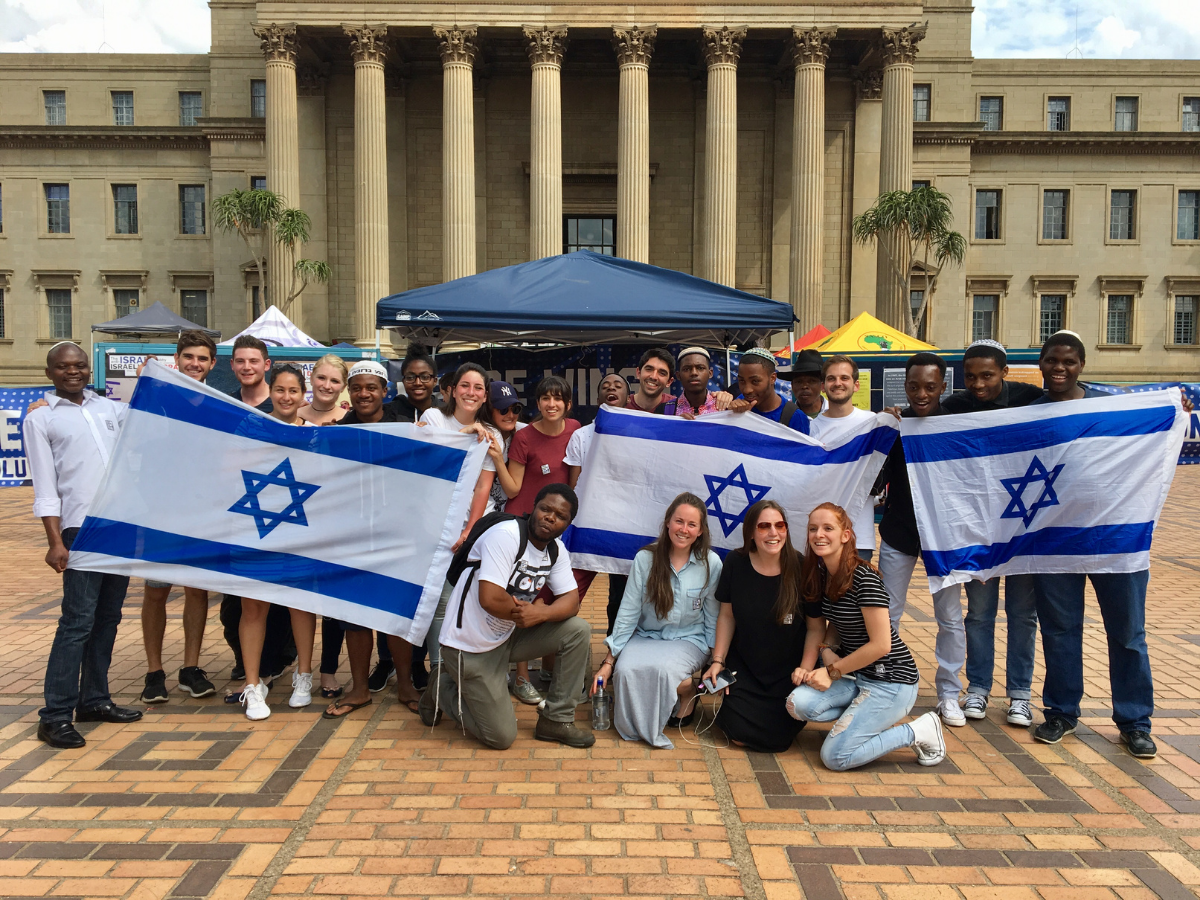 What are the three most important things I should know about you?
My family and friends are my everything.
I'm addicted to coffee (just not Israeli coffee)!
I love doing chessed (outreach) and trying to bring light to a world that sometimes seems very dark.
Shwarma or falafel?
Falafel every day of the week!
What are you most proud of?
Last year, I met with President Reuven Rivlin, representing the World Union of Jewish Students and global Jewish youth, to engage with him on the intricate challenges global Jewish youth face and methods of combatting those challenges. It was a very proud moment to be able to speak on behalf of 600,000 Jews across the world, and have our challenges heard so warmly and with interest. More so, it was humbling to receive his firm pledge of allegiance, and gratitude, on behalf of the State of Israel for the work we are doing for them on countless campuses globally.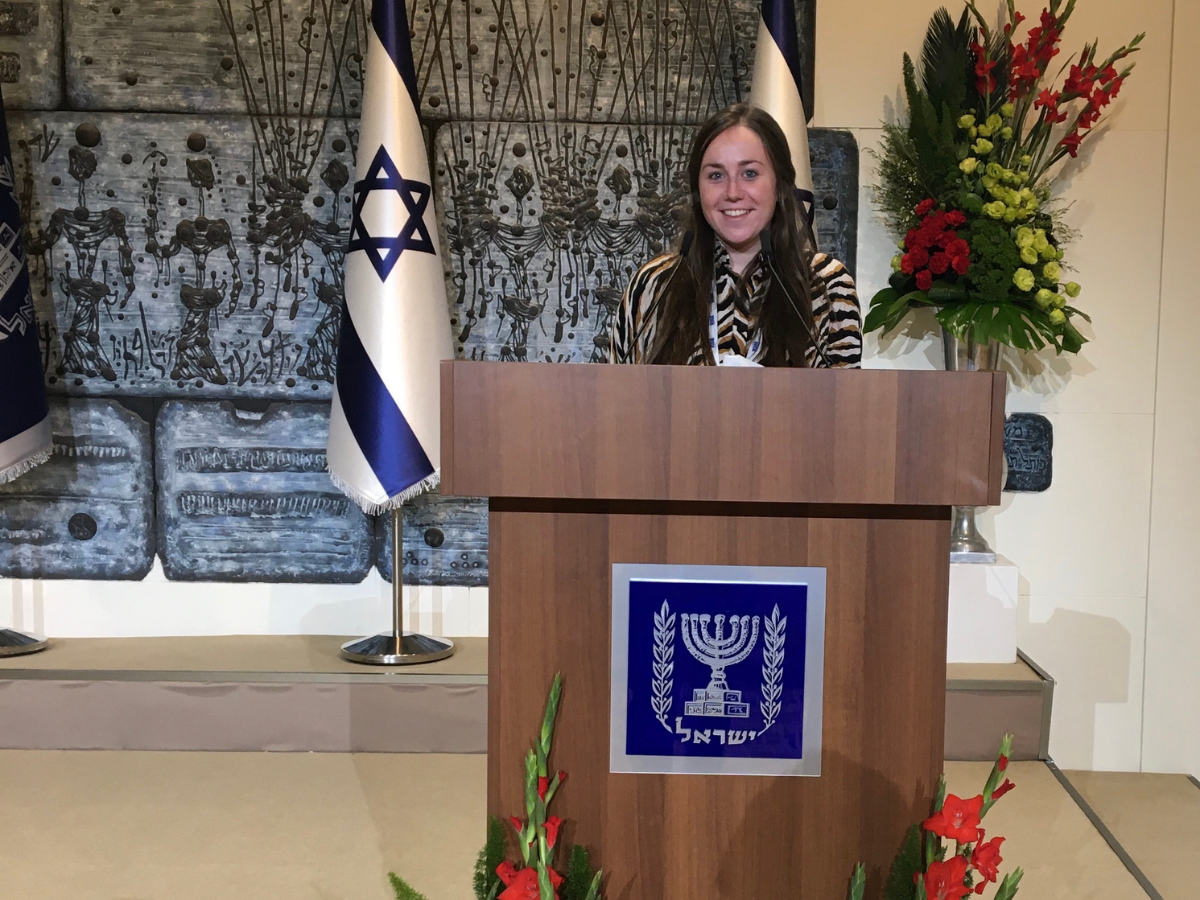 What's your secret talent?
My secret talent is probably getting you to say yes when you mean no.
Who do you most admire, and why?
Out of anyone in the world, I admire my father most. He is a role model and a beacon of strength and inspiration. He has had so many challenges in life, and while he always takes a lesson from the challenge so as to better himself, he's constantly got an eye on the future to see how he can pick himself up and move forward. He is always helping those around him, and always has time to give advice if its needed. He is strong, with direction, yet soft. He is everything  I aspire to be.
What is your favorite place to visit in Israel and why?
Definitely the Old City of Jerusalem, but Tzfat and Jaffa come a close second! The diversity of cultures and religion living side by side, as well as the holiness tangible there, are an unbeatable combination.
Why do you care about helping Israel?
Israel is where my heart is – a safe haven for the Jewish people. Anti-Semitism is ravaging the world and Jews don't feel safe in too many 'friendly' countries. I see it as my moral obligation to do everything I can to help ensure that Israel remains this safe haven for Jews, as well as educate others why it remains so important and special to us.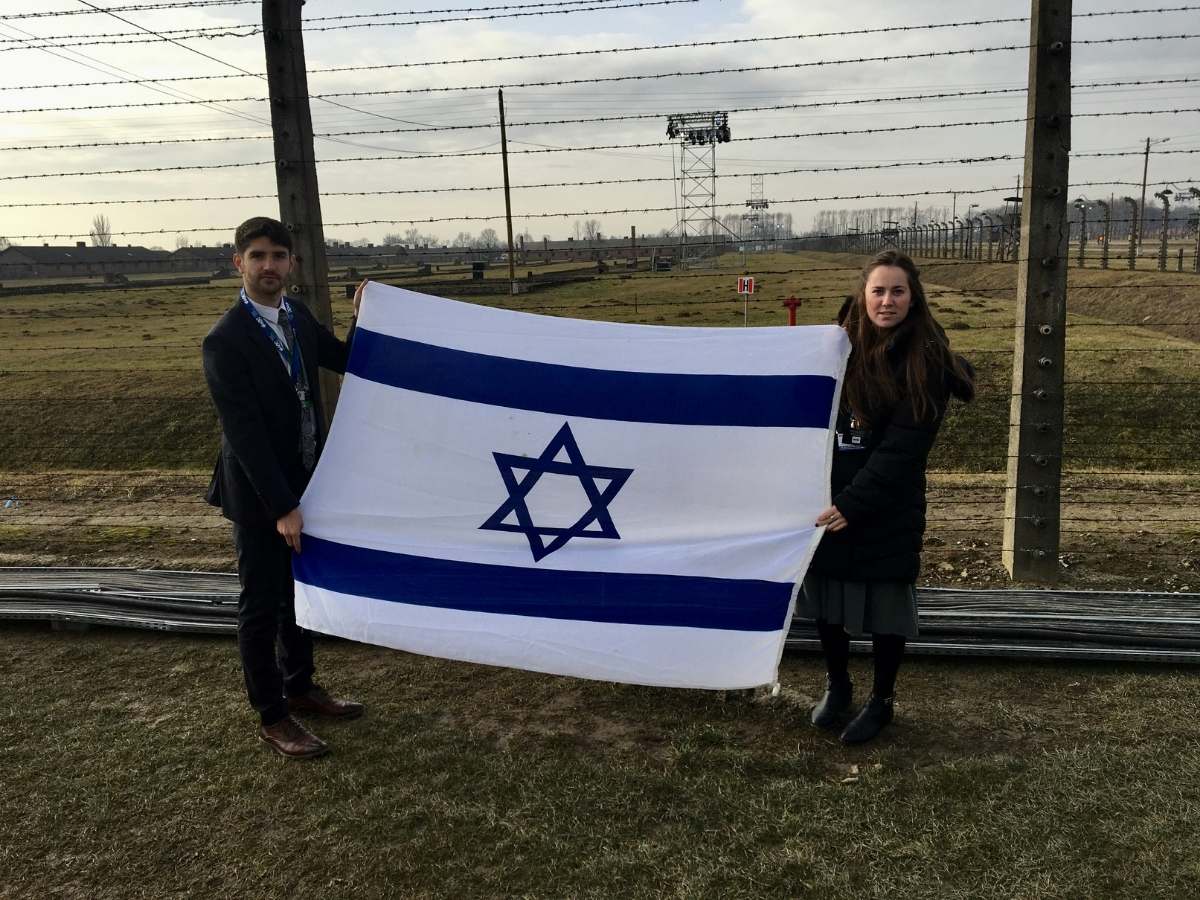 You're our first international MOTM. Tell us a bit about what it's like on your campus in South Africa.
South Africa was the birthplace of BDS, and to this day it remains the epicentre of global efforts to delegitimize Israel. At the Durban Conference in 2001, BDS birthed the Apartheid analogy, with the South African governing party, the African National Congress, enthusiastically supporting the movement. When the governing party of a country who perpetrated Apartheid supports the lobby that another country is a racist and Apartheid state, other countries typically tend to believe them. This is obviously untrue, yet many Africans lack access to education, and have never seen Israel. Those who get to go to Israel often return with a very different opinion, flabbergasted at the propaganda they have been fed.
The Apartheid and racism argument is very hard and emotional to counter, as many students still suffer and live with the remanants of Apartheid, and don't have access to equal opportunity.
Whilecampus and country climate can be hostile, our government protects minorities, and I feel safe to live and practice as a Zionist Jew in South Africa. In general, our campuses are a safe space for your average Jewish student. The anti-Zionism that we typically see is spearheaded by a well-organized hostile BDS minority who consistently attempt to infiltrate every society on campus, including student government. Their aim seems to be to make Zionist Jews' lives a misery. They often compare themselves to Nelson Mandela's freedom fighters against the Apartheid regime.
Disgusting Israel Apartheid Weeks and vile anti-Israel rhetoric have become the norm. Unfortunately, during anti-Israel rallies, anti-Semitism has also become accepted, and they find no problem holding Jews accountable for anything going on in Israel. Our campus has been plagued by Nazi torture scenes, with IDF soldiers portrayed as Nazis; Hitler salutes; graffiti stating "f**k Jews"; Leila Khaled being welcomed and celebrated on campus while inciting anti-Semitism; chants of "shoot the Jew"; Ahed Tamimi conducting a lecture, and so much else.
All of the above considered, we have an incredible Jewish community. We have been blessed with a group of passionate, dedicated and committed Jewish (and sometimes non-Jewish) students who put their entire heart and soul into defending Israel on campus and spreading the truth. While it's an incredibly tough fight, and not one I wish on anyone, we have most certainly made strides over the past few years, through many different tactics. Our campus is changing, and I'm very proud that we are combatting and defeating this hatred.
Name one thing you're personally doing to help Israel on your campus?
The first proposed academic boycott of all Israel was set to take place in Cape Town four years ago. This would've meant boycotting all Israeli institutions, academics and materials, and the University of Cape Town would've been the first university in the world to pass such a boycott. South African campuses are different to US campuses in that boycotts and resolutions are not merely symbolic with no practical effect.  They deeply affect the campus, student government, and can ultimately affect government policy.
I had numerous international colleagues throughout Europe inform me that 'their universities were looking to this boycott for directions on academic boycotts of Israel'. The implications should the boycott pass would've been disastrous.
After 4 years of an unexplainably hard fight, and combined consistent efforts of members of the Jewish community, we managed to defeat this boycott in December 2019. I am so proud to have played a part in these efforts, and stood up for democracy and truth.
How has the Maccabee Task Force helped you/your campus to support Israel?
BDS are persistent and loud, and we in the pro-Israel community face enormous challenges and anti-Israel forces. Maccabee Task Force has been an incredibly important partner to us, and has helped us implement a very ambitious programme. I am incredibly grateful.
What are you looking forward to most this upcoming year/semester?
All our classes have been online, so I'm looking very forward to hopefully going back to campus and being able to make a bigger difference to students on the ground.