ISRAEL UNDER FIRE

As Israel's efforts to defend itself from Hamas rockets enter their second week, we wanted to make sure you have updated numbers and statistics. We've included these, below.
But while the numbers may have changed, the moral equation has not.
Hamas is a terrorist organization that fires rockets at Israeli population centers from Palestinian population centers. This is a double war crime. Hamas' goal is to terrorize and murder Israelis. When Israeli civilians are killed, Hamas cheers.
Israel is doing what any other nation on earth would do: defending its citizens from these missiles. While doing so, it takes every possible precaution to spare innocent Palestinian civilians. Israel's goal is to stop the terrorists, not to harm innocents. When innocent civilians are nonetheless killed, Israel mourns and investigates.
When the smoke clears, we will likely find that many of the civilian causalities in Gaza were caused by the hundreds of rockets that fell short of Israel and landed in Gaza, not Israeli defensive measures. No one should take Hamas numbers at face value.
The idea that Israel's response must be "proportional" in terms of casualties produced does not exist in international law. Israel has a right to defend its citizens from Hamas rocket fire. Israel is not required to stop its self-defense the minute the number of Hamas casualties surpasses the number of Israeli casualties. Israel has every right and obligation to continue its self-defense until the missile fire stops and Hamas' ability to terrorize Israel is sufficiently diminished.
1 Week of Ongoing Terror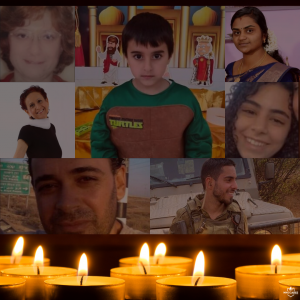 Innocent Israelis Murdered
12 victims in Israel have been murdered in the last week:
Soumya Santhos, 32, Ashkelon
Nella Gurevitz, 80, Ashkelon
Staff Sgt. Omer Tabib, 21
Khalil Awad, 52, Lod
Nadin Awad, 16, Lod
Leah Yom Tov, 63, Rishon LeTzion
Ido Avigal, 5, Sderot
87 Year Old Woman, Shtulim
Woman in her 50s, Neta'im
Gershon Franko, 55, Ramat Gan
Unnamed Victim, Eshkol Regional Council
Unnamed Victim, Eshkol Regional Council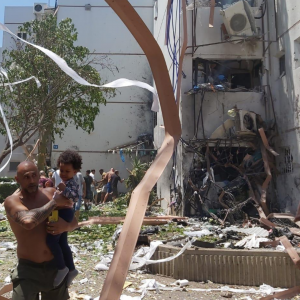 Property Destroyed
This image shows a home in Ashdod destroyed by rocket fire. This particular attack injured several people. The widespread damage is indiscriminate, affecting all areas of life; supermarkets, a synagogue, a school, homes and cars are just a few examples.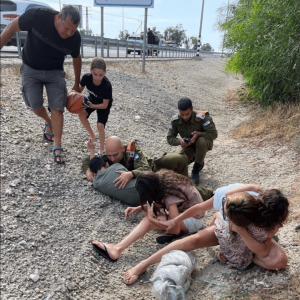 Millions of Lives Endangered
Pictured here is Col. Sagi Baruch, head of the IDF Home Front Command's Southern District shielding a child on the side of the road while sirens signal incoming rockets on Sunday. The danger is always present and hundreds of Israelis have been injured. This terror is the reality millions of Israelis have been facing every day.